*Update: Hey, I asked RibbonRockStar how she made her Blog Party Post a "sticky" and she shared her knowledge, so now I have complied with the request and made mine a sticky at the top of my blog as well! That means that everything I have posted since this party started is now BELOW this post. Technology is so COOL...it makes me want to sing ala Kip Dynamite "I love technology, but not as much as you, you see...but I still love technology...always and forever...
"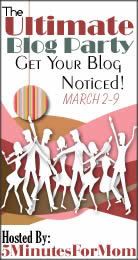 Hello, and welcome to the party!!! I've never been to a blog party, since I'm quite new to this whole bloggy world, but it's been "cake-crazy" here this week, so I'm ready to have some fun! If this is your first time visiting my site, WELCOME, and feel free to browse through any of my previous posts. You can meet all four of my children under "Meet the Crew", you can read about my fabulous Valentine present, or just look at pictures of cakes and cookies. If you haven't been by already, be sure and stop by
Five Minutes for Mom
the hosts of this incredible Blog Party!
Thanks for stopping by!